Advanced Manufacturing
At the forefront of maintaining American technological superiority in advanced manufacturing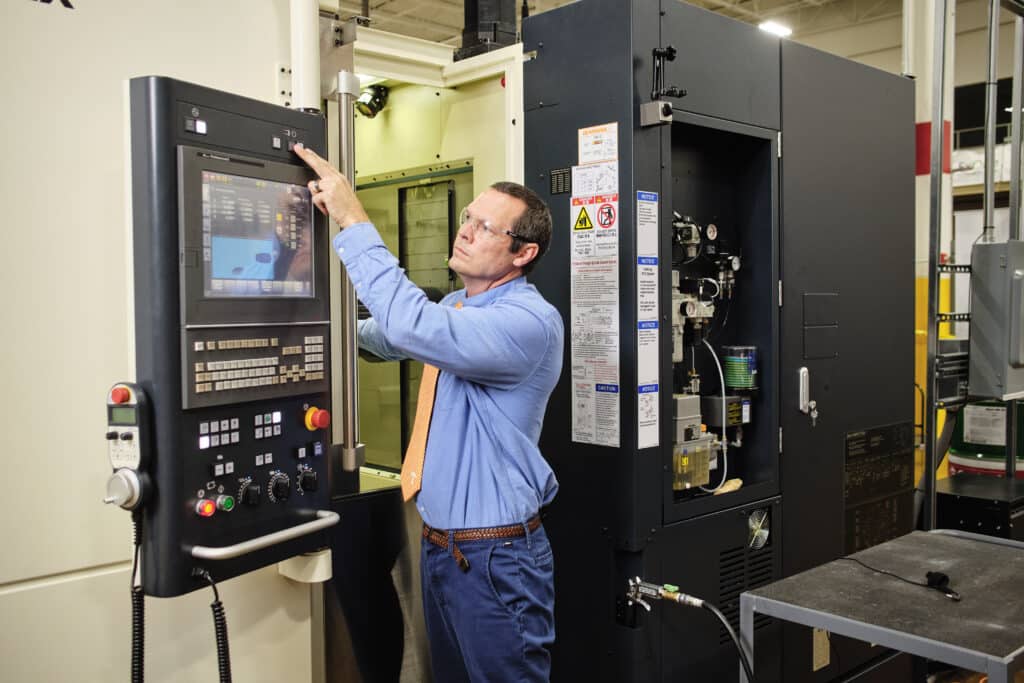 ---
Drawing on world-renown talent, our faculty members incorporate expertise in hybrid, solid state and composites manufacturing, advanced metrology, and machine tools to diagnose and solve some of the most complex challenges for industry and government.
These efforts dovetail with our world leading research in global supply chain, public policy expertise in energy policy, environmental policy, global security, leadership and governance, and artificial intelligence.
Our Approach To Innovation
Advanced manufacturing research at UT is uniquely conducted in partnership with public, private, community, and industry partners to promote economic development, enhance national security, share knowledge, and engage a skilled and trained manufacturing workforce.
Through online and in-person programs, UT is directly addressing workforce development needs within the defense, aerospace, automotive, medical, consumer goods, and energy production industries.
Working collaboratively with external partners, our faculty and students conduct groundbreaking research in large area additive manufacturing for composites; metal additive manufacturing using powder bed processing, wire arc, and additive friction stir deposition techniques; convergent manufacturing of multi-material systems, hybrid automated manufacturing for industry 5.0; and contemporary design practices for additively-manufactured architecture.
Highlights
Award Winning 3D Structure
The Additive Manufacturing Integrated Energy (AMIE) project is one of the largest 3D-printed, energy-harvesting systems in the world. An award-winning breakthrough in building technology and urban sustainability, AMIE was designed and built by UT students, faculty, designers and scientists.
Army Collaboration
UT researchers are working to improve materials and manufacturing methods that could significantly advance capabilities of the US Army Combat Capabilities Development Command (DEVCOM) Army Research Laboratory, including developing the next generation of vehicles, increasing the distance of its long-range arsenal, and exploring designs for vertical lift vehicles of the future.
HAMMER Research Center
UT is a core member of The Hybrid Autonomous Manufacturing, Moving from Evolution to Revolution (HAMMER) Engineering Research Center, a multi-institutional research center focused on developing and deploying revolutionary intelligent autonomous manufacturing systems and educating a future manufacturing workforce.
CNS Partners with UT
Consolidated Nuclear Security (CNS), which operates both Y-12, located in Oak Ridge, Tennessee, and the Pantex Plant in Amarillo, Texas, for the National Nuclear Security Administration, has a $9.5 million agreement allowing access to UT's faculty, students, and research facilities to drive the implementation of new technologies for innovations applied to key national security mission areas.
Talent
UT-ORNL Governor's Chair for Advanced Manufacturing

Computational materials science, fundamental issues in non–equilibrium phase transformations, application of in-situ neutron and synchrotron diffraction tools, laser surfacing for improvement of structural and biomaterial surfaces, novel phase transformation concepts to join nanostructured materials